Product Description
Company Profile:
We, Jinan Rainbow Machinery Co., Ltd are a professional manufacturer and leading supplier of good quality beer brewing system, ranging from 100L-30000L per patch (used for home, pub/hotel, factory, etc.) at a very competitive price, with product design, production, sales, and installation support.
Bright beer tank
-Dome top and dome bottom
-Interior Shell:SUS304,thickness: 3.0mm;
-Exterior Shell:SUS304,thickness: 2.0mm;
-Insulation: Polyurethane-thickness:100mm
-100% TIG welding with pure argon gas shield
-Interior Finish:Mirror polishing to 0.4~0.6 μm without dead corner
-Cooling jacket: both on dome bottom and cylinder parts, thickness:1.5mm
-Cooling media: glycol water
-Carbonation stone
-Top/side mounted manway
-Safety/vacuum valve on top
-Sample valve
-Bung apparatus
-Test Pressure:0.3 Mpa,Working pressure 0.2Mpa.
-Discharge arm with butterfly valve
-CIP arm with 360° coverage CIP spraying ball
-Thermowell with high accuracy temperature sensor: PT100
The following is the complete 2000L brewing system for your reference.
Items

Equipment

Specification

Quantity

(PCS)

Malt miller

Malt miller

500kg/hour

1

Brew house

Mash tun/lautering tun

2000L

1

Brew kettle/whirlpool

2000L

1

Hot liquid tank

2000L

1

Plate heat exchanger

20 m2

1

Pump

5 m³/h

1

Wort oxygenator

1

Working platform

1

Fermentation

Fermenter

2000L

6

Yeast adding tank

50L

1

Cooling unit

Glycol water tank

3500L

1

Cooling compressor

10hp

2

Water pump

3 m³/h

1

CIP unit

Alkali tank

200L

1

Sterilization tank

200L

1

Pump

3 m³/h

1

Control unit

Siemens PLC controlling system

1

Filter system

Kieselguhr filter machine

500L/H

1

Bright beer tank

2000L

1

Spare parts

All necessary spare parts such as pipes, valves, gauges and clamps…etc.
Heating source: electricity, baine-marie heating, gas fired or steam
Material: stainless steel 304 or copper
Warranty: 36 months for main equipments
Main features of brewhouse and fermentation:
Brewhouse system:
1) - inner wall stainless steel 304, 3mm;
- surface wall stainless steel 304 or copper, 2mm
2) -Dome top, top manway with glass
-Side manway, cone bottom 160 degree
3) - insulation: polyurethane/rockwool 100mm;
- with inside CIP washing ball
- raking agitator
- removable false bottom
- sparging arm, sight glass
-Tangential inlet for whirlpool
-Thermowell for temperature sensor and thermometer....
Sample: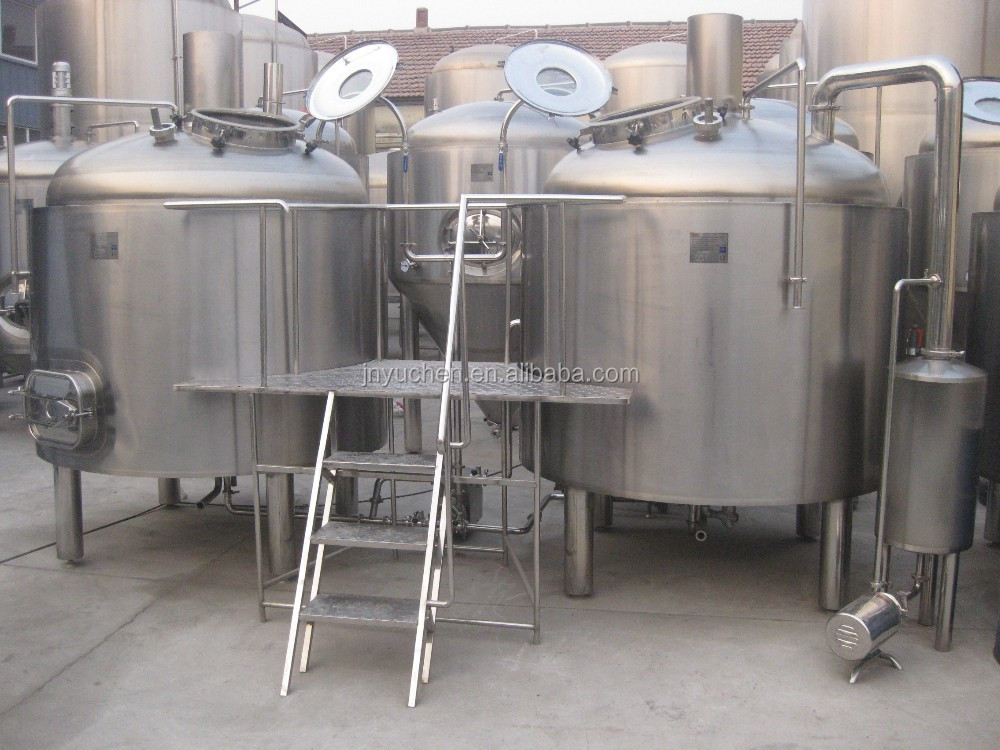 Fermentation system:
1) - Inner wall stainless steel 304, 3mm;
-surface wall stainless steel 304, 2mm
2)-Dome top, conical bottom,
-Top manway
3) -Insulation: polyurethane 100mm
4) -Glycol cooling jackets on both cylinder and cone
5) - Inside 360 degree rotating CIP washing ball;
- CIP arm
- Pressure gauge
- safety&vacuum valve on top
- sample valve
- rotating racking arm
- thermometer
-carbonation stone (optional)
- dry hops port (optional)
6) -Testing pressure: 3 bar
-working pressure: 1.5-2 bar
Sample:
For Your Reference:
1. We have the capacity of 100L, 200L, 300L, 500L, 1000L, 2000L, 3000L, 5000L, 8000L...( 1bbl, 2bbl, 5bbl, 10bbl....) per patch for your reference.
It can be customized, such as the capacity, material, voltage(like 380v, 50Hz, 3phases), heating source, etc.
2. The brewer can also brew draft beer, pale beer, brown beer, stout beer etc,
to meet different taste of customers.
OPTIONAL:
Beer bottling line: bottle washing machine, filling machine, capping machine,
pasteurization tank, labelling machine.
Kegs washer and filler.
Beer kegs(10L,20L,30L,50L...), beer tower.
Steam boiler.
Payment Terms︰ TT/LC
Product Image